Licensing of Intellectual Property: Patents, Trademarks, Trade Dress & Copyright Licensing Attorneys in San Diego, CA

IP Licensing
At Buche & Associates, P.C., a large part of our practice relates to transactions involving intellectual property rights.
For twenty years, we have dealt in licensing and transfers of intellectual property assets.
We have handled licensing at all levels – from small business transactions, to deals with companies that are household names and Fortune 500 businesses.
Our range of licensing experience is considerable. A partial list of some of the types of products and services we have licensing experience with include:
Automotive products
Clothing
College team logos
Beverage distribution
Famous golf club brands
Famous footwear brands
Graphic art work
High end medical equipment
Hotel franchise licenses
Material handling products
Merchandising for famous comic characters
Musical works
Nationally recognized brands of power tools
Photography
Semiconductors
Video games
We have licensed, sold and secured intellectual property rights of all varieties – including patents, trademarks, copyrights, trade dress and trade secret technologies.
In addition to vast experience in getting deals done, the attorneys of Buche & Associates, P.C. are heavily guided by experience in related fields of (a) patent, trademark and copyright acquisition; and (b) litigation of intellectual property disputes.
Consequently, not only do we understand the IP rights in play, but we also make sure our clients' agreements are enforceable in an appropriate forum if necessary.
As is often the case, licensing may arise from litigation and disputes involving intellectual property rights, so in getting deals done and maximizing value to the parties, we believe it is important to understand the entire playing field when putting together contracts that protect rights of negotiating parties.
Based in San Diego, California and with offices in Houston, Texas, the attorneys of Buche & Associates, P.C. are well equipped to handle the licensing needs of your business. If you have a licensing issue you would like to discuss, do not hesitate to contact us to discuss how we may be of assistance.
What our Clients have to say...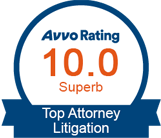 Great... They helped me straighten out a patent 10 years ago and now I'm reaping the rewards. Thx John

John and his team have been fantastic to work with. They are always responsive, professional and very knowledgeable. Highly recommended.

John and the associates at his firm have done some fantastic trademark and other intellectual property work for my business startup. His legal advice has been invaluable and I can't recommend his services enough.

I spoke with John and two of his attorneys about a the potential for patenting a bicycle braking apparatus. He was very knowledgeable and generous with his and his teams time. It turned out that the apparatus was not patentable but had it been we would have strongly considered Buche & Associates.