Car Accident Attorneys in San Diego, CA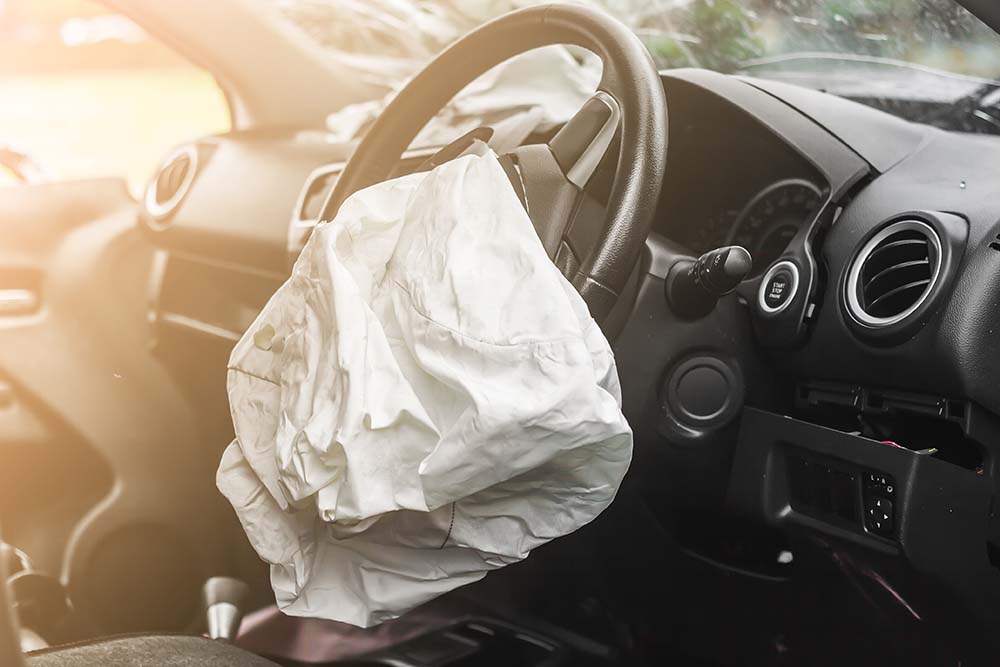 At Buche & Associates, our attorneys in San Diego, CA can help with serious car accident cases. After a car accident, you may have significant damage to your vehicle, injuries, or worse. Our team listens to you, learns what happened, and then works to protect your rights. As a full-service law firm, our attorneys are available to provide answers to your questions.
Car Accident Attorneys to Help You in San Diego, CA
With decades of combined experience in civil litigation, the attorneys at Buche & Associates can help you to get an understanding of the legal ramifications of your accident. The situation can be stressful, and there are often worries about injuries, medical bills, property damage, police, witness statements, and insurance. Often, there are also confusing advances by insurance company representatives who may try to get you to release claims. Sometimes accident victims are in a near state of shock because of the accident, and the confusing events surrounding the accident add to the turmoil. All these are reasons why it is important to hire a lawyer to help you, sooner than later. Having a trustworthy attorney can buy you peace of mind, knowing that your interests will be protected. Primary concerns should be seeking immediate help for medical care and caring for loved ones. Your primary goal should be to heal and overcome any injuries. Contact car accident attorneys today.
What makes us different?
For one, we do not take every case. But, if we do take your case, it will be handled aggressively and thoroughly. In fact, we only take a limited number of accident cases a year so as to maintain full bandwidth to handle the cases we do take. Unlike many other firms, our attorneys possess advanced technical backgrounds, so they are well versed in working with some of the most technologically complex accident cases, which can require advanced expertise with electronics, biomechanics, and physics. In some cases, we handle not only the negligence aspects of a case, but problems with vehicle defects and crashworthiness.
We are aggressive and dedicated to helping you to prove your case. If you've lost money or are suffering from significant loss due to another person's actions, we want to help you recover for those losses. Over the years, we've helped a variety of civil litigants to get the help they need to recover from medical bills, lost time at work, and even the loss of their loved one's life. Our aim is to do everything in our power to help your recover from serious injuries.
Who Is at Fault in a Car Accident?
It depends. One of the misconceptions many people have is that when a car accident happens, they have no ability to fight the claim for negligence. For example, if you are in a car accident and the police on the scene say you are at fault, you may be able to turn that around and prove otherwise. If you were blamed for the losses at a car accident, you may need to take a closer look at your case to find out what may be happening and why.
In certain instances, accident reconstruction tools are available to help prove your case. For some cases, it is these tools that can help to solve many of the unknowns, providing insight into what really did happen and what can be done about it.
If you were involved in a car accident and you believe the other party was responsible – even if you are not sure you can prove it, you should contact our car accident attorneys in San Diego, CA to learn more.
Estimating Your Losses – Know Your Rights Under the Law
Another key step our team at Buche & Associates offers to you is peace of mind. We highly recommend that our clients never settle a case without first speaking to an attorney who is working on their behalf. For example, if you are in a car accident and the other insurance company wants to settle your case, don't do it. Allow our team to review your case to determine what type of loss you have suffered. It may be more than you realize.
The losses from any type of car accident are dependent on what occurred and who is responsible. However, our car accident attorneys work hard to provide support for clients facing a wide range of losses including:
Lost time at work due to injuries, time spent in court, or medical appointments
Medical bills including emergency room visits, ambulance rides, and both short-term and long-term rehabilitation
Pain and suffering
Loss of a limb or the function of a body part
Loss of life in a wrongful death case
If you suffered any type of loss due to the actions of another person, contact Buche & Associates to learn more about the type of compensation that may be owed to you.
What should I do after an accident?
Seek prompt medical attention for all of your injuries. Because of how the human body responds to the immediate stress and shock of an injury, you may not feel immediate pain from a collision. Sometimes pain and injuries will not be apparent until days or weeks after an accident. Left untreated, your injuries may actually become worse. See a qualified health care provider as soon as possible.
Take photographs of the vehicles, the accident scene, and of any injuries. A picture paints a thousand words. A photograph shows the conditions at the time of the accident, the severity of injuries, and the extent of property damage. Even when injuries are severe, after a crash, evidence has a tendency to disappear. Vehicles are repaired or salvaged, memories fade, and the immediate injuries heal. This tendency of evidence to disappear will be used by defense attorneys to argue against the severity and reality of the original injury.
Deal cautiously with insurance adjusters and consult an attorney. Insurance adjusters may offer you a check after your accident, ask you to make statements, or sign releases following an accident. You should be very careful. These people represent insurance companies and they are not looking out for your best interest – they represent the insurance carriers and are trying to minimize liability to their clients. Statements may be used against you, releases may prevent you from making future claims and checks may not cover your ultimate medical expenses or property damages. You should hire an attorney as soon as possible.
Comprehensive San Diego, CA Car Accident Attorneys
Our firm provides help to individuals facing several types of car accident losses. We want to learn more about your incident. Here are some of the types of cases we can help you resolve:
Drunk Driver Accidents
Have you been in a car accident caused by a drunk driver? The losses in a case like this can be devastating. Damages can be tremendous when one considers lost income, pain and suffering, medical bills, lost attention of one's spouse who suffered. Alcohol is also not the only cause of injuries, since there are also numerous instances of driving under the influence of drugs, pain medications, and other substances.
In some situations, it may not just be the individual behind the wheel that is responsible. It may be the establishment that allowed an individual to drive intoxicated or provided too much alcohol to support the needs of that individual. It is our goal to determine who is responsible and to ensure you receive ongoing support for your needs.
If you were hit by a drunk or intoxicated driver, it is worth consulting with our car accident attorneys to help you prove your case and to verify your losses. Our team has experience helping people face these incidents.
Hit and Run Accidents
In a hit and run accident, you may feel like there is nothing you can do to recover your losses. That is not the case. In this type of incident, your first step is to call the police to report what happened. They will go to work to try and find who is responsible for your losses.
In the meantime, if you have underinsured or uninsured liability insurance through your own car insurance provider, that company may be able to provide you with financial compensation for your losses. However, they will work to try to limit how much you can claim. Keep in mind that it is the car insurance company's job to try to limit how much compensation you receive. It is our job to show what losses you have had so you can recover the funds owed to you.
If the police find the responsible party, it is our goal to help prove your losses to them so they can pay what is owed. In many situations, you may be able to obtain the financial compensation owed to them after such an incident.
Truck Accidents
If you are in a car accident with a truck, you need to hire a personal injury attorney that is there to represent you. Trucking companies have powerful attorneys that will work to prove you were at fault and to try to lessen what the insurance company pays to you. Do not settle your case. Do not overcome the losses on your own. Instead, hire truck accident attorneys to go to work to prove what occurred to you.
Keep in mind that it may not just be the truck driver that is responsible for this case. It may also be the person behind that person who is employing them. Our goal is to help to prove what you lost so you can get back to living your life without these types of financial risks and losses.
Bike, Scooter, and Pedestrian-related Car Accidents
In a bike accident, scooter accident, or a pedestrian accident, the losses can be significant. In many situations, a person who is involved in this type of accident suffers the risk of broken bones, internal injuries, and even brain damage. A car weighs significantly more, putting you at a direct risk of being injured severely if a vehicle strikes you on a roadway.
In many cities across the nation, people are being injured by negligent drivers of e-scooters. If you live in a populated city, you are probably already familiar with the brands of scooters that roam the streets, sidewalks and bike paths. These scooters can go extremely fast, and when a 50-70lb scooter with a 170lb rider collides with a pedestrian or biker, it does not often go well. Collisions with pedestrians and other motorists can have catastrophic results, and they are on the rise with the proliferation of the scooters. Add to the scooter equation intoxication, and the chance of injury increase dramatically, and predictably.
At Buche & Associates, we listen to what happened to you and then work with you to work to obtain the compensation owed to you. Distracted driving and careless drivers are the number one causes of losses like this. Yet, you can obtain compensation for those losses. It is up to you to work with a law firm that can prove what you lost and why. Our team can do that for you by providing comprehensive support to you.
Wrongful Death Car Accidents
Any type of car accident that results in someone dying is one of the most tragic and horrifying experiences of a lifetime. When you realize that you lost your loved one through no fault of their own, that only makes the case more difficult. At Buche & Associates, we cannot ease the pain of your loss but we can work aggressively to prove that financial loss that this death brings to you. It is always our goal to help you to learn what your options are to recover against culpable defendants.
Keep in mind that insurance companies will try to force you to settle your case for less. They may even offer what seems like a big sum of money to you initially. However, unless you have a legal team working to protect you, specifically, you are generally missing out on key financial support that is owed to you. Even with contingency percentages, you are usually going to be much better off working with an attorney so you are not taken advantage of by the insurance company attorneys.
Buche & Associates can help work with you to determine what your estimated losses are, to help you through this difficult time, and so you get the best possible outcome in your case and for your future. Contact car accident attorneys today.
Why Trust Buche & Associates with Your Case?
For years, our team at Buche & Associates has worked with clients facing incredible loss and the inability to improve their circumstances through no fault of their own. We're dedicated to working with you to prove your case. When you contact our attorneys in San Diego, California, you'll be working with trusted and truly dedicated professionals who want to help you.
Contact us today to learn more about your legal options. We offer a free consultation to discuss your case. Visit our La Jolla, California office at 875 Prospect, Suite 305, La Jolla, California 92037. Feel free to call to discuss your case at 858-459-9111.