Welcome to
Buche & Associates, P.C.
SAN DIEGO . LOS ANGELES . HOUSTON
Buche & Associates, P.C. | Serving Clients in Southern California and Texas
Buche & Associates, P.C., is a top-rated law firm serving clients in San Diego, Los Angeles and Houston.
We provide legal counsel for a broad range of business and civil matters. We are trial lawyers and litigators, handling cases including intellectual property, personal injuries, professional athlete disability, and contractual matters. We specialize in protecting intellectual property rights such as patents, trademarks, copyrights, and trade secrets.
Whether securing patents, negotiating contracts, or representing parties in litigation, we pursue our clients' interests aggressively and respect their ultimate goals. In addition to our expertise in intellectual property, we take pride in a focus on civil trial advocacy and have experience with a vast array of civil litigation in federal, state, and arbitration settings. Buche & Associates, P.C. is based in San Diego, California and our attorneys are collectively licensed in the states of California, Texas, the 5th Circuit, 9th Circuit, Federal Circuit, the United States Supreme Court, as well as the United States Patent and Trademark Office.
Our Practice Areas in Southern California and Texas
Buche & Associates maintains offices in San Diego, Los Angeles and Houston, Texas. However, the cases and clients we serve span the country, and the world.
If you have a legal issue to discuss, do not hesitate to contact Buche & Associates, P.C. The lawyers and staff at Buche & Associates, P.C. are well equipped to handle your legal needs.
What our Clients have to say...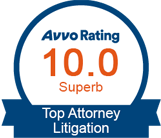 Great... They helped me straighten out a patent 10 years ago and now I'm reaping the rewards. Thx John

John and his team have been fantastic to work with. They are always responsive, professional and very knowledgeable. Highly recommended.

John and the associates at his firm have done some fantastic trademark and other intellectual property work for my business startup. His legal advice has been invaluable and I can't recommend his services enough.

I spoke with John and two of his attorneys about a the potential for patenting a bicycle braking apparatus. He was very knowledgeable and generous with his and his teams time. It turned out that the apparatus was not patentable but had it been we would have strongly considered Buche & Associates.