Patent Infringement Opinions
If your business has been accused of patent infringement, has received a "cease & desist" letter, or has been more cordially invited to pay a licensing fee on patented technology, it is a good idea to promptly secure a patent infringement opinion from experienced patent counsel.
A competent patent infringement opinion is the cornerstone of formulating a strategy for dealing with patent threats. The reality is, not all patents are created equal. Some patents are very narrow, whereas some are very broad–and it is important to know the difference when negotiating licenses, responding to a lawsuit, enforcing patents, or designing products that will avoid infringement. On the flip side, a patent plaintiff must equally consider the strengths and weaknesses of the patent(s) to be enforced and the only way to do that is by securing good legal opinions.
In addition to helping to formulate a strategy to assert or defend infringement allegations, a competent patent infringement opinion that considers current law and facts can help to avoid enhanced damages awards in litigation.
Buche & Associates, P.C. is an experienced intellectual property boutique firm that that has counseled businesses and individuals for roughly fifteen years on issues of patent infringement. We are not only registered patent attorneys familiar with writing patents and Patent Office procedure, but we have also been engaged in licensing and have extensively litigated intellectual property matters on behalf of both plaintiffs and defendants. Our firm has staffed offices in San Diego, Houston and Los Angeles to service clients across the country.
If you are confronted with a patent infringement issue, please do not hesitate to contact our offices for a free initial consultation.
What our Clients have to say...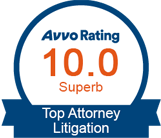 Great... They helped me straighten out a patent 10 years ago and now I'm reaping the rewards. Thx John

John and his team have been fantastic to work with. They are always responsive, professional and very knowledgeable. Highly recommended.

John and the associates at his firm have done some fantastic trademark and other intellectual property work for my business startup. His legal advice has been invaluable and I can't recommend his services enough.

I spoke with John and two of his attorneys about a the potential for patenting a bicycle braking apparatus. He was very knowledgeable and generous with his and his teams time. It turned out that the apparatus was not patentable but had it been we would have strongly considered Buche & Associates.