Dog Bite Attorneys in San Diego, CA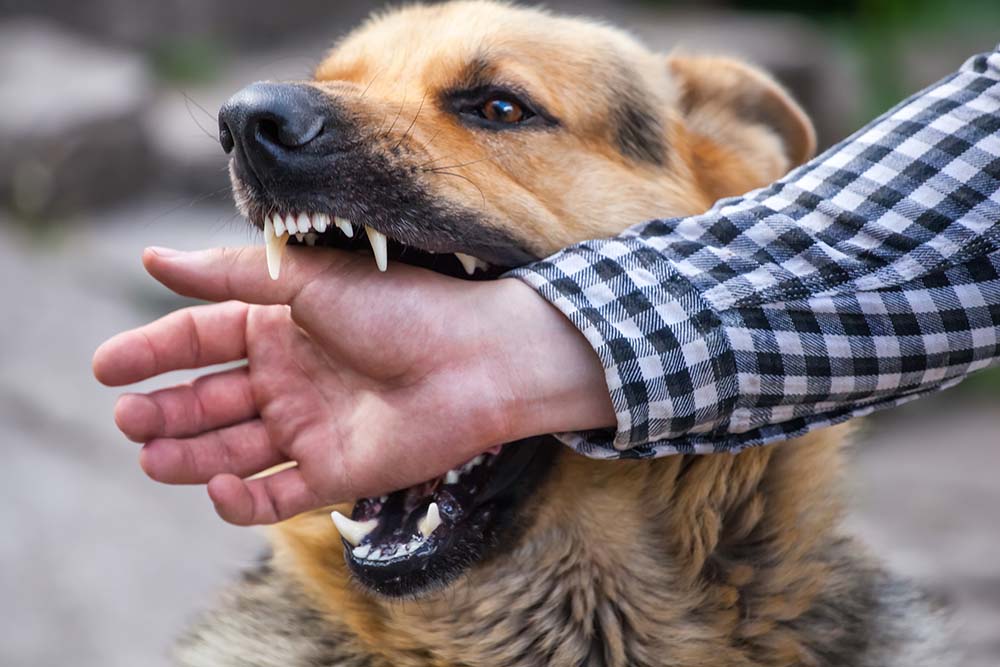 In the U.S., roughly 4.5 million dog bites are reported each year, according to the Centers for Disease Control and Prevention. In California, nearly 80% of reported animal bites were from domestic dogs. While sometimes these bites cause minor pain and suffering to the victim, many are quite serious, causing both physical and mental trauma and, sometimes, even death. In fact, about one in five dog bites require medical attention and, nationwide, the number of dog attacks that end in fatality is increasing. If you or a loved one has been bitten or mauled by a dog, you may be entitled to fair compensation. Buche & Associates is a San Diego-based law firm that has experienced dog bite attorneys who are dedicated to protecting clients' rights and helping them get the recompense they deserve when bitten by a dog.
Prevalence of Dog Bites in San Diego, CA
Did you know that residents of California own more dogs than residents of any other state? In a city like San Diego where the weather is mostly mild and sunny all year long, dogs appear to be everywhere. You'll see them panting at the farmers markets, trotting alongside their owners at the area parks and beaches, and even napping at their owners' feet in dog-friendly restaurants and cafes. People adore their dogs and frequently treat them as family members. Sometimes, however, they may place too much trust in these animals that, while loving and gentle around their owners, can become dangerously aggressive toward strangers if they feel threatened or simply uneasy.
In recent years, the number of dog bites in San Diego and the nearby cities of Encinitas, Carlsbad, Del Mar, Santee, and Solana Beach increased by 28% according to a report by ABC 7 San Diego. These bites often led to extensive corrective surgeries, plastic surgeries, other types of healthcare treatments (particularly in association with wound infection), enormous medical bills, missed work, psychological trauma, and considerable pain and suffering. If you or a loved one has been bitten or attacked by a dog, no matter its breed or size, you may be eligible for compensation.
California Dog Bite Law
Owing to the increase in dog bites throughout the state, California has instituted strict dog bite laws. While some states give dogs "one free bite pass," California does not. According to California Civil Code Section 3342, dog owners are strictly liable when their dogs bite someone. Dog owners are liable if their dog bites someone while in public or if the victim is lawfully in a private place (the law does not apply to trespassing individuals who are bitten). While many other personal injury cases require that the plaintiff demonstrate that the defendant was negligent to win their case, this isn't the case with dog bites. Victims of dog bites in California may qualify for compensation even if the owner isn't proven to be 'negligent.'
In fact, California dog bite attorneys only have to demonstrate that the victim of the dog bite was lawfully on the premises when the bite or attack occurred and that the bite caused the plaintiff injury. According to the statutes, the dog's owner is then liable for the plaintiff's injuries and damages. The law does not apply to dog walkers or temporary dog sitters. It also does not apply to military or police dogs.
Cases of Dog Bites and Negligence
Owners are liable when their dogs bite, but if they are shown to be negligent, they may be liable for more under the law. Cases of negligence in this regard are not unusual. Your dog bite attorney at Buche & Associates can help you determine if negligence can be proven. In California, the dog's owner is liable for damages if they are aware of the dog's dangerous inclinations or propensity for attack and fails to exercise responsible care in containing or handling the animal. Your claim may also demonstrate that the dog has a prior record of dangerous behavior and the dog's owner has knowledge of the dog's dangerous behavior.
Proving negligence, which certainly upgrades the case and possibly the amount of compensation to be awarded, is more difficult to prove than the strict liability statute, but is still becoming more common. In San Diego County, there is also a leash law, so if owners fail to keep their dog leashed in public and it bites someone, they are acting negligently because leash laws are largely designed to protect people against such injuries. San Diego dog owners are also legally bound to keep up with their pet's vaccinations. If they have failed in this respect, they may be subject to further liability.
What Should You Do If You Are Bitten by a Dog in San Diego?
If you or a loved one in your care is bitten by a dog in San Diego, you should first seek medical attention. Even what appears to be a minor bite can prove to be more serious than you think. Healthcare providers can examine the wound and ensure that it's properly cared for and cleaned. When obtaining medical care, be sure to retain all hospital or clinic paperwork. Also, you should immediately document the injury and the scene of attack. When at all possible, take note of the time of the day, photograph the dog, the dog's owner, the dog owner's car and license plate, and gather as much information as possible about the dog's owners. It also is not a bad idea to file a police report and involve law enforcement, particularly if the dog or its owners are a flight risk, or if there are concerns about disease with the animal that attacked.
You should also consider contacting San Diego Animal Services. The dog may pose a serious risk to other members of the community. You should definitely exchange information, if possible, with the animal's owner. If you cannot identify the dog's owner or where the dog lives, you may need to call the police or San Diego Animal Services for help and to report that a dangerous dog is running wild in your area. If the dog attacked you, it could very well attack another person and that person is a child, the sustained injuries could be quite serious or even life threatening.
In serious cases, police or medical caregivers may even document the injuries with photos. Photos, medical-related paperwork, and paperwork regarding missed work or school because of the attack can be used as evidence in a legal case.
Experienced Dog Bite Attorneys of Buche & Associates
Buche & Associates dog bite attorneys are experienced and compassionate. Having dealt with dog cases, they have a keen awareness of the pain and suffering involved when a dog bites. Enduring a serious dog bite or witnessing a dog attack a child is an undeniably traumatic event. We know this. California legislators know this. But you still need proper legal representation to receive the compensation you deserve.
After receiving medical care for your dog bite, it's important not to wait to contact our dog bite attorneys. According to Civil Procedure Section 335.1 of the California Code, dog bites, as well as other personal injury suits, must be filed within two years of the event. After that two-year period, you no longer have a right to sue for compensation. It's also important to involve us in the case as early as possible because we can advise you early about the legal process and help you obtain the evidence needed to pursue your case and collect the compensation to which you are legally entitled. In cases where the dog owner's home insurance agent is involved, we can also deal with the insurer who is going to try to minimize damages. We'll work on your behalf to make sure you get the fair compensation you deserve.
What Happens to Dogs that Bite?
Many dog bite victims are concerned about not only the animals that have attacked them, but are also concerned that the dog may attack someone again. We understand this feeling, which is quite natural. San Diego Country features an ordinance that requires dog owners to report any instances when their dog bites to the San Diego Department of Health. This body will decide if the dog should be isolated. It may require isolation for a minimum of 14 days to determine if it has rabies. Authorities will also attempt to determine of the dog's conditions, confinement, or treatment by its owner have changed or have some bearing on the dog's aggressive behavior.
If the dog has bitten someone on more than two occasions, authorities may initiate a hearing to determine if the dog should be removed from its owner. In extreme cases, often involving dogs that have been trained to attack, fight, and even kill, the court may require that the animal be euthanized.
The sad truth is that dog attacks have resulted in fatalities. Reporting aggressive behavior in dogs is everyone's responsibility to help create safe communities for people and especially for smaller children.
If you have been bitten by a dog in or around San Diego, CA, call to discuss your experience with the dog bite with an attorney from Buche & Associates. We're here to help you receive the compensation you are owed for your pain and suffering.