Lawyer Profile (Bryce A. Johnson)
Bryce A. Johnson
Bryce A. Johnson specializes in patent, trademark and intellectual property law.
Bryce earned his Bachelor of Science degree as a chemical engineer from Brigham Young University. After earning his undergraduate degree, he worked with an innovative heavy metal treatment company that removed the element selenium pollution from water used to irrigate crops. Turning then to the legal field, Bryce earned his law degree from the University of San Diego. There, he earned many honors, which included graduating cum laude from the USD School of Law and received the prestigious Order of the Coif.
Currently, Bryce's practice focuses primarily on advising clients in various industries concerning their intellectual property rights. As a patent attorney, Bryce has helped clients obtain hundreds of patents in industries as diverse as computer gaming, automotive, electronic devices, sports equipment, machine tools, household appliances, industrial equipment and hazardous material handling equipment. Bryce is adept at quickly grasping the novelty of new technology and finding the best legal routes to achieve meaningful patent protection. In addition, Bryce has worked on firm trial teams on cutting edge patent litigation, and also worked successfully with litigation teams at the Patent Trial & Appeal Board ("PTAB"), with proceedings that include inter partes review, post grant review, and ex parte reexaminations.
In addition to his experience with intellectual property, Bryce is well-versed in a variety of other type of business law, and routinely helps clients with a range of transactional matters. He also routinely participates in forming legal strategy on civil litigation matters on a range of subject matters.
Outside the practice of law, Bryce is a dedicated athlete, an avid yoga practitioner, and traveler. He speaks conversational Tagalog.
Bryce A. Johnson's Core Practice Areas Include:
Intellectual property consultation
Patent applications and appeals
Trademark and copyright litigation
Patent, copyright and trademark infringement prosecutions
What our Clients have to say...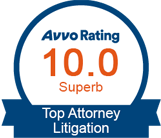 I reached out to Buche and Associates via email for help with a music industry contract. John responded to my email the next day giving me assurance and a thumbs up on my existing contract - NC. I appreciated the rapid, honest, and professional response! I'm very happy to have found this law firm.

All the attorneys that did work for me at Buche and Associates were extremely knowledgeable and got the work done quickly and efficiently. I've always felt they've had my best interests and given me sound advice that has paid off. I highly recommend Buche and Associates for your legal needs.