Legal Professional Profile (Garrett Gray)
Garrett Gray – Disability Representative
With over a decade of experience, Garett Gray specializes in working on disability claims with a focus on former professional athletes. With a breadth of experience in successful disability representation, Garett treats every case uniquely and puts the needs of clients first – making him highly sought after. Compassionate and professional, we treat our clients with respect and consider it a privilege to assist them with tough issues.
Proven Track Record with Successful NFL Disability Representation
Garett has proven credentials in helping injured clients. His relentless work and experience in the area have enabled him to help hundreds of victims recover compensation for injuries and disabilities. It says something that most of Garett's clients are referred from other satisfied players.
Comprehensive Understanding of Athlete Injuries and Disability
Mr. Gray's thorough understanding of joint disorders, neurocognitive dysfunction, mood disorders, and spinal injuries has put him in a unique position to make sure the firm's clients work with our legal teams to get the best possible outcomes. Garett has tirelessly worked to ensure that clients get medical care and compensation for disabilities and injuries. We believe in understanding every aspect of a case, so we are well prepared to help clients in the best way possible.  
Professional Athletes and Disability
Professional athletes have unique circumstances. They may be highly paid, but they often have short careers, and are at risk of injuries and disabilities that can last forever. Apart from the physical harm, there can be a great deal of mental trauma when brain injuries exist. Buche & Associates, P.C. understands this, which is why we help athletes achieve appropriate medical and financial care.
Garett understands that clients who come to the firm may not be well-versed with legal terms. He uses his own practical manner, and plain English, to help clients fully understand the legal process; how it affects their particular situation; and how their claim will run from a legal standpoint. He also provides a holistic view of other issues they may face along the way.
Part of a Winning Legal Team for Athletes
As part of an important legal team, Garett is always well positioned to assist clients in other areas of their lives where firm attorneys can help—for instance, in matters of financial fraud or business transactions. It is not uncommon for professional athletes to be targeted by scammers and opportunist. When this comes up, or is a concern, athletes know they are with a team they can trust. The attorneys and legal professionals at Buche & Associates know how to help athletes avoid these problems and can help vet the good and bad business transactions. 
Contact at Disability Representative you can Trust
If you would like to set up a call with the firm, or speak with Garett, you can call the San Diego office at 858-459-9111, the Houston office at 713-589-2214 or the Los Angeles office at 310-593-4193.  Or fill out a contact form below:
What our Clients have to say...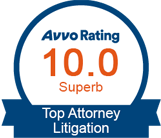 Great... They helped me straighten out a patent 10 years ago and now I'm reaping the rewards. Thx John

John and his team have been fantastic to work with. They are always responsive, professional and very knowledgeable. Highly recommended.

John and the associates at his firm have done some fantastic trademark and other intellectual property work for my business startup. His legal advice has been invaluable and I can't recommend his services enough.

I spoke with John and two of his attorneys about a the potential for patenting a bicycle braking apparatus. He was very knowledgeable and generous with his and his teams time. It turned out that the apparatus was not patentable but had it been we would have strongly considered Buche & Associates.