Intellectual Property Attorneys in San Diego, CA

Businesses, industries, artists, and academic professionals naturally attach value and importance to their proprietary information and intellectual property. Buche & Associates is based in San Diego and devotes a considerable part of our practice to protecting clients' intellectual property rights. Our firm provides legal counsel and representation in the areas of intellectual property, trade secrets, trademarks, copyrights, patents, licensing and distribution agreements, domain names, and advertising. In fact, we have more than 20 years of experience practicing in these areas of the law. Our associates are dedicated to protecting clients' rights and working to ensure that they are fairly compensated when breaches of their rights occur.
About Intellectual Property Law
Buche & Associates has experienced intellectual property lawyers who specialize in these areas of the law. Intellectual property law is associated with a range of rules and statutes that secure and enforce legal rights respecting artistic works, designs, inventions, and other proprietary information. Many people are familiar with the part of the law that protects personal property, but intellectual property is an asset too. Individuals or businesses have a legal right to control—often exclusively control—intellectual property assets even though they are intangible assets. Buche & Associates IP attorneys help our clients ensure that no one else can profit or misappropriate works that belong to them without securing appropriate permissions, or paying fair royalties.
Buche & Associates Specializes in Intellectual Property Law
Buche & Associates has handled intellectual property law and related cases at all levels. We have represented individuals, small businesses, and large companies, helping to safeguard their legal rights. When it comes to this area of the law, our attorneys provide legal counsel, help clients acquire rights, protect, and enforce. In addition, we help businesses and individuals protect themselves against false charges of infringement when plaintiffs claim rights that they do not actually possess. In addition, our range of licensing experience is considerable. Here is a partial listing of the of the product types and services our attorneys have handled:
Automotive products
Clothing and accessories
College logos
Beverage distribution
Footwear
Golf clubs
Hotel franchise licensing
Medical equipment
Merchandise (i.e., for famous characters)
Musical compositions
Photogaphy
Graphic arts and murals
Semiconductors
Video games and more
It's important to choose an IP attorney who has considerable experience with these types of cases. Our attorneys are experts in this field and continue to stay up-to-date on laws that affect intellectual property law, trademarks, patents, copyrights, trade secrets, and other related fields.
Of course, there are other related areas of intellectual property law that we specialize in too. Licensing, due diligence, mergers and acquisitions, and crafting protection strategies for both domestic and international intellectual property matters are also some services our attorneys can provide.
World-Class Legal Counsel
Sometimes, our clients simply need competent legal counsel in areas of the law related to intellectual property. As experts in these types of matters, our attorneys can advise you about the best course of action regarding your case. You need experienced IP attorneys who can effectively strategize how to protect your rights at home and abroad. With our incredibly diverse range of IP cases, we believe we can provide you with the counsel you need to successfully protect your rights. Our clients include individual intellectual property owners, manufacturers, commercial businesses, retailers, laboratories, start-up companies, and more.
Remember, intellectual property protection isn't merely a set of static solutions. Your intellectual property may very well be an item that requires nourishment so it can grow into a lucrative asset. Protecting it well helps you ensure that you are the beneficiary of this asset's earning potential. Infringement cases are all too common—and some can be quite brazen in their refusal to adhere to intellectual property laws, copyrights, and patents. Our attorneys see this all the time. But they also have the tools and resources needed to effectively protect your intellectual property rights.
Protecting You Against Infringement
If you believe that someone is infringing on your intellectual property, we can help. If an individual or business entity is infringing on your rights as the intellectual property owner, you can contact us to provide notice. We can begin the legal process by warning unauthorized users to cease infringing on your rights. In some instances, this may be all that is required. On the other hand, this warning also sets other aspects of the law into motion, particularly if you are entitled to legal benefits. We can prosecute your infringement case in court if the case warrants it.
Enforcing Your Rights
Buche & Associates IP attorneys can enforce your intellectual property rights in court. First, you can consult with our legal experts who can help you determine if your rights have been infringed upon and to what extent. If you choose to proceed with litigation, you may be entitled to a number of remedies under the law. First, the court could order an injunction, instructing the infringer to cease doing whatever it is they are doing to impede upon your rights. In many cases, the infringer may agree to a licensing agreement if you are open to this measure. In these cases, the infringer can only continue to use your intellectual property if they pay you for the privilege with a royalty.
As the intellectual property owner, you have considerable rights. These rights can be lucrative. That's why it's so important to work with a legal team that has experience and expertise in intellectual property law and licensing agreements. The attorneys of Buche & Associates can help you establish, defend, and profit from your intellectual property.
Patent, Trademark, and Copyright
Because our firm specializes in areas of the law like intellectual property, we've naturally included related topics in our practice. Our attorneys specialize in patent, trademark, and copyright law. We can assist our clients by filing U.S. national and foreign patent applications, copyright applications, and trademark applications. We have experience defending our clients' rights in both federal and state courts in matters of entertainment, copyright, business, patent and trademark infringement claims. We have successfully litigated matters dealing with unfair trade practices, false advertising, trade secrets, non-competition agreements, domain name disputes, internet law, breach of licensing agreements, and other related matters.
Trade Secrets and Unfair Competition
Buche & Associates has attorneys who are experts in legal matters concerned with trade secret and unfair competition laws. We'll put our expertise and experience to work for our clients, protecting their assets. Trade secret law is complex, but it can provide protection for a wide array of ideas, some of which may not be patentable. In recent years, our attorneys have helped clients protect their chemical processes, product sourcing information, secret recipes, customer lists, business contacts, and more. If you have a trade secret that needs protecting, contact Buche & Associates to learn how we can help you protect your rights in this regard.
In addition, if you believe that litigation is in your best interest, we can take your case to court. We will represent you or your company's interests with unfailing dedication in any type of dispute that involves unfair competition or a misappropriation of confidential material or information. Trade secret theft is serious and can have considerable impact on you. Our attorneys can help you establish your case and work to ensure that you are compensated for damages.
Domestic and Global Protection of Your Rights
Given today's dynamic global economy, it's essential to provide the best protection for your intellectual property—your trademarks, trade secrets, copyrights, and other assets that are crucial to your livelihood or business. It can be challenging just to provide first-class safeguards of your rights in the U.S., but it can be incredibly complicated when foreign states are concerned. Counterfeiting and other forms of intellectual property infringement have been steadily increasing around the world.
Buche & Associates helps owners of intellectual property rights design and institute effective enforcement strategies in the U.S. and abroad. You deserve to have your property rights skillfully protected and defended—even in emerging markets. Our attorneys have experience in the fields of fashion, gaming, agriculture, software, manufacturing, and much more. We can put our experience to work for you too. Regardless of your industry, we can craft the right solutions for you to protect your intellectual property assets.
About Buche & Associates
Buche & Associates is based in the San Diego, CA, region, but we also have branches in and around Houston, TX and Los Angeles. Our attorneys are carefully screened to ensure they meet our high standards of experience and expertise. Our firm specializes in various aspects of the law so we take care to ensure that each area is staffed with the best legal minds. If you would like to discuss a legal matter related to intellectual property, patents, trade secrets, or fair competition, please contact us to schedule your appointment.
The attorneys of Buche & Associates are dedicated to providing the best client service. We are responsive in our approach to communications and diligent in our quest to serve you. We feature cost-conscious pricing solutions and offer an atmosphere based on cohesive teamwork and collaboration. Contact us to see if we can help you or your business protect its valuable intellectual property assets. From licensing to enforcement of your rights, we have effective solutions designed to protect you and your property.
What our Clients have to say...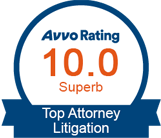 I reached out to Buche and Associates via email for help with a music industry contract. John responded to my email the next day giving me assurance and a thumbs up on my existing contract - NC. I appreciated the rapid, honest, and professional response! I'm very happy to have found this law firm.

All the attorneys that did work for me at Buche and Associates were extremely knowledgeable and got the work done quickly and efficiently. I've always felt they've had my best interests and given me sound advice that has paid off. I highly recommend Buche and Associates for your legal needs.