SAN DIEGO . LOS ANGELES . HOUSTON
San Diego, CA | Patent, IP, & Copyright Attorneys | Buche & Associates, P.C.
Patent, IP, and Copyright Lawyers in San Diego, CA
Were you accused of patent or trademark infringement? Need help securing your company's intellectual property? Is another party reproducing works created by you or your company?
If so, Buche & Associates P.C. may be the right law firm for you. We offer a full range of civil and business-related legal services for patent, trademark and copyright matters. With offices in San Diego, Los Angeles, and Houston, if you need a patent attorney, trademark lawyer, or someone experienced in intellectual property law, schedule a free consultation.
Intellectual Property Attorneys in San Diego, CA
If you need help licensing, securing, or selling your company's intellectual property, one of our experienced IP lawyers can help you. A large portion of our casework involves intellectual property rights, and we've been handling IP cases for more than two decades. Our IP attorneys have extensive experience handling intellectual property cases at all levels of business too — from small, local companies and individual inventors, to sophisticated Fortune 500 corporations.
Your company's intellectual property is one of its most important assets. In a global economy and with the advent of e-commerce, ideas move quickly. If ideas and IP rights are not properly secured, they can be halfway around the world, and commercialized to benefit others. It's more important than ever to make sure your company's intellectual property is correctly protected. If you have logos, images, slogans, taglines, proprietary technologies, inventions, or any other type of intellectual property that has not yet been legally protected, contact us for a free consultation.
We have helped companies in various industries, including:
Sports equipment
Automotive
Energy
Power Tools
Industrial Equipment
Video games
Household Products
Software
Semiconductors
Wireless Technologies
Clothing
Offshore
Our San Diego IP lawyers have worked with a wide range of businesses in various industries to license, secure, and sell IP rights including copyrights, patents, trademarks, trade dress, and trade secret technologies.
Patent and Trademark Attorneys in San Diego
Patent and trademark infringement matters should not be taken lightly. Unchecked infringements can damages profit margins and brand identities. On the other hand, false accusations of patent or trademark infringement can be detrimental to your business and unfairly restrict the right to compete.
You should speak to a San Diego patent and trademark attorney as soon as you're aware of potential IP litigation matter.
We have decades of experience handling complex litigation of intellectual property disputes across the country. We have offices in the San Diego, Los Angeles, and Houston areas, and serve clients across the world.
Because patent and trademark infringement cases are normally heard in federal court, it's important you not only choose a lawyer experienced in infringement law but one that can practice in federal court, and who is well versed with matters in other related forums, such at the Patent Trial & Appeal Board ("PTAB") and the Trademark Trial & Appeal Board ("TTAB"). The lawyers at Buche & Associates P.C. have more than 20 years of experience handling patent and trademark infringement cases and are collectively licensed in California, Texas, federal district courts, appellate courts, and in the U.S. Patent and Trademark Office. We have handled IP matters through the United States Supreme Court.
What our Clients have to say...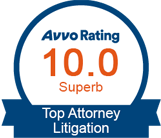 I reached out to Buche and Associates via email for help with a music industry contract. John responded to my email the next day giving me assurance and a thumbs up on my existing contract - NC. I appreciated the rapid, honest, and professional response! I'm very happy to have found this law firm.

All the attorneys that did work for me at Buche and Associates were extremely knowledgeable and got the work done quickly and efficiently. I've always felt they've had my best interests and given me sound advice that has paid off. I highly recommend Buche and Associates for your legal needs.