Trade Secrets & Unfair Competition Attorneys in San Diego, CA

Trade Secrets & Unfair Competition
Trade secret and unfair competition laws serve to protect those assets which give a business a competitive advantage and that a business takes reasonable precautions to protect. Trade secret law can protect a variety of ideas, including those that may not be patentable. Typical examples would include customer lists, secret recipes, secret chemical processes, product sourcing lists, lists of telephone numbers and business contacts.
A trade secret can last indefinitely, so long as reasonable precautions are taken to protect it as such. However, if someone exposes the secrets by "reverse engineering" or other fair means, a business can lose the right to prevent others from using the technology.
Based in San Diego, California, Buche & Associates, P.C. can help your business devise steps to protect intellectual property rights to non-patented, although valuable technologies. If litigation develops, we can represent your interests in any dispute involving unfair competition, misappropriation of confidential information, or trade secret theft. In litigation, the issues are generally whether the information was truly "secret," whether precautions were taken to protect information as proprietary, whether there were any unfair actions of the defendant, and establishing and proving the proper measure of damages.
At Buche & Associates, P.C., we have handled jury trials and appellate arguments about trade secrets at the highest levels. We have successfully litigated trade secret and unfair competition cases in state courts, federal courts, and federal appellate courts, including the United States Supreme Court.
If you have a trade secret or unfair competition case, do not hesitate to contact us for a free consultation.
What our Clients have to say...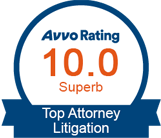 Great... They helped me straighten out a patent 10 years ago and now I'm reaping the rewards. Thx John

John and his team have been fantastic to work with. They are always responsive, professional and very knowledgeable. Highly recommended.

John and the associates at his firm have done some fantastic trademark and other intellectual property work for my business startup. His legal advice has been invaluable and I can't recommend his services enough.

I spoke with John and two of his attorneys about a the potential for patenting a bicycle braking apparatus. He was very knowledgeable and generous with his and his teams time. It turned out that the apparatus was not patentable but had it been we would have strongly considered Buche & Associates.